Hello Stampendous Friends, your favourite Foreign Correspondent Asia King here. Are you ready for part 2 of my Four Seasons concerto? If you missed part 1 with the close up pictures of my project, you can check it out here.
Well then, let's begin. All my pages were made in the same way, I just used different stamps and embossing powders. For the purpose of this tutorial I will show you the steps for one of the pages – and it only seems right to feature my Spring page here
.
Step 1 – here's what you need:
- Fresh Bloom and Ruffled Bloom cling rubber stamps
- White and Black detail embossing powders – these can be found in the Detail Embossing Kit
- DCWV 8″x8″ Luxury Paper Stack – or any other pearlised papers
- clear embossing ink, water brush, Inktense pencils (Crimson & Cherry)/water colour pencils, Tim Holtz Vintage Cabinet Card die, heat gun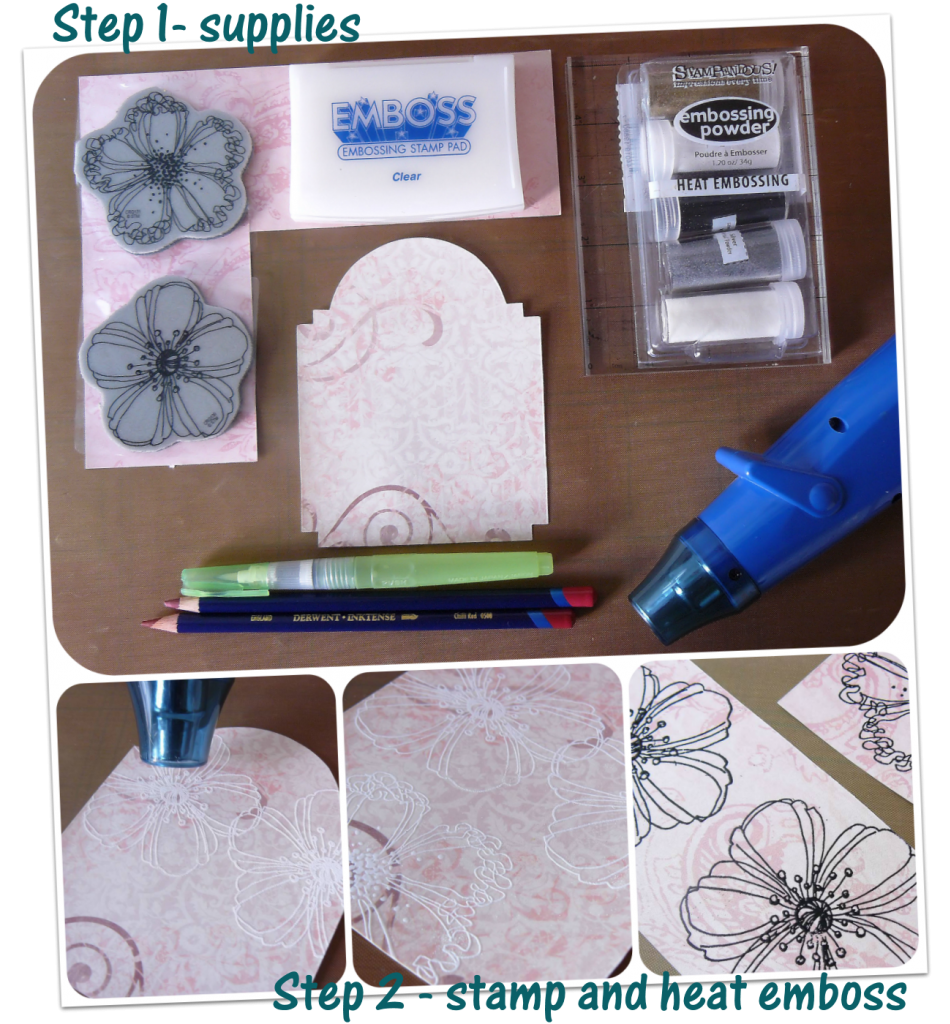 Step 2:
- die cut a Vintage Cabinet Card panel from the pearlised patterned paper, choosing the colour theme accordingly to the season
- using clear embossing ink stamp 3 flowers onto the die cut panel and 3 flowers onto scrap pieces of the same colour theme paper
- heat emboss with white and black detail powders
Step 3:
- using a waterbrush pick up some pigment directly from the pencil and colour in the black embossed flowers
Pearlised paper works great when colouring with Inktense pencils – the colour with 'travel' and blend beautifully without losing the 'shine' from the pearlised paper. It dries quite quickly but it will stay wet for long enough to blend it more if needed. And if you go over the line – no worries. Just use your waterbrush to lift off the excess colour.
Step 4:
- repeat the process to build layers of colour as desired.
Step 5:
- fussy cut the flowers
- add a blob of Beacon's 3 in 1 craft glue in the centres of the flowers
- embellish the centres with pearls, Champagne Glass Glitter and Pearlised Mica Fragments (these can be found in the Pink Encrusted Jewel kit)
Step 6:
- swipe the edges of the card panel with clear embossing ink
- heat emboss with Aged Rose Embossing Enamel
- add accents with Pearlised Mica and Rose Fragments - you can use 3 in 1 glue as adhesive
Step 7:
- I like to seal my encrusted jewels with a drop of Beacon's Fast Finish – it dries clear and it smells lovely, too!
Step 8:
- die cut 4 Cabinet Card panels from black cardstock and 4 panels from chipboard (or cereal box)
- glue black panels and chipboard ones using and old glue brush and Claudine Hellmuth's Multimedium Matte. Make sure to immediately put your brush in water to avoid hardening – unless you don't mind it becoming an embellishment
.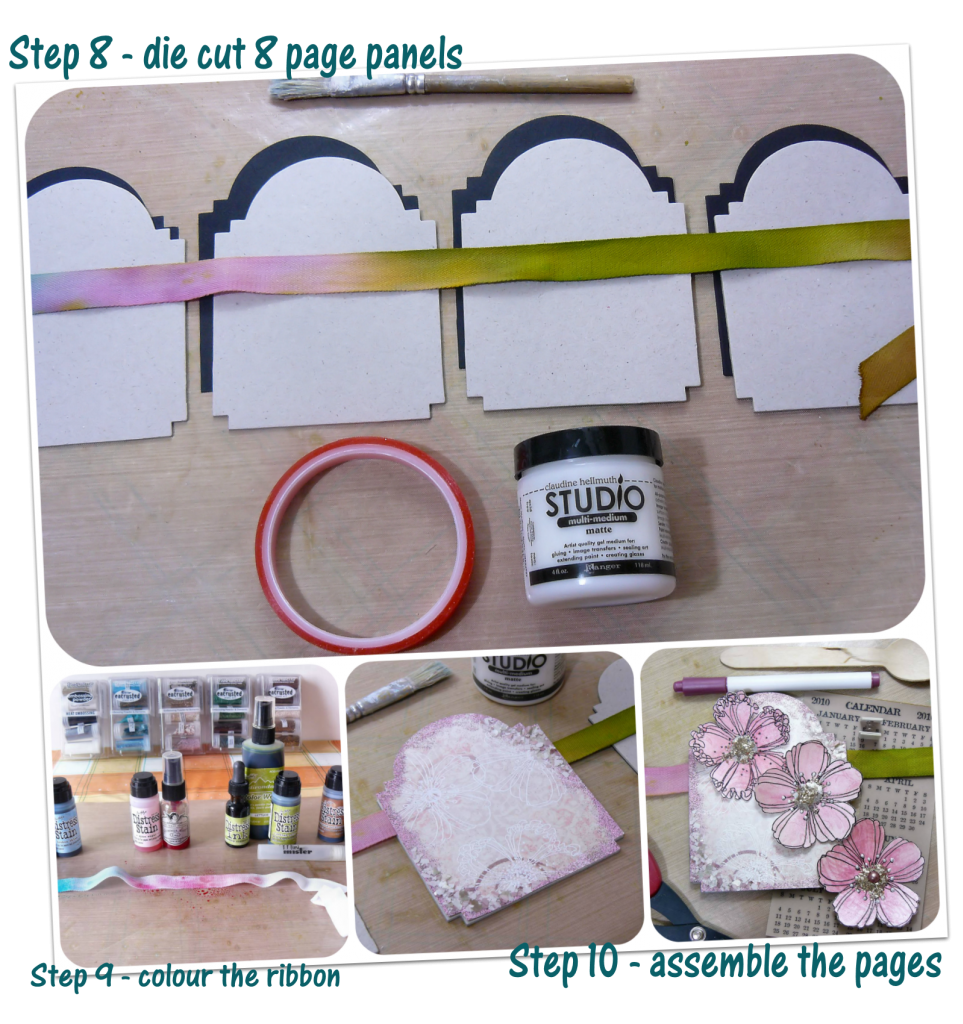 Step 9:
- cut a length of white strong ribbon. Use mists, ink sprays and distress stains to colour the ribbon. Add water with a mini mister so the colours blend in easily.
Step 10:
- layer your base chipboard panels about an inch apart. Decide which way your book should fold, depending on any dimensional elements
- using Matte Multimedium adhere the coloured ribbon across the chipboard panels about 1/3 down from the top.
- adhere your Fran-taged pearlised panels to the chipboard panels using Multimedium. Use large paper clips to hold the panels over the ribbon until the glue sets
- add some calendar rub-ons (Prima) in the bottom right corners of the panels. You can easily add rub-ons over the enamelled areas
- layer your embellishments and sentiment panels over your seasons pages. Complete your project with additional trinkets as desired.
I hope you enjoyed the second part of my Seasonal Concerto and I can't wait to see your seasonal beauties! If you have any questions – let me know in the comment below
.
Big hugs
Asia
Filed under: Asia King, BlogStars, Cling Rubber Stamps, Coloring, Craft Projects, Embossing, Essentials, Frantage, Rubber Stamps, Spring, Summer, Tutorial, Winter | Tagged: blogstars, card, Card Making, cards, cling rubber, cling stamps, color, craft, emboss, embossing powder, flower, Frantage, glitter, paper, paper craft, Paper Crafts, rubber, rubber stamp, Rubber Stamps, Spring, stamp, stampendous, stamping, stamps | 8 Comments »