To bring our fantastic sojourn at Tea Time to a close, we have a terrific tutorial from BlogStar Asia King. She's here to dwell on her obsession with tea time and it's accessories, plus she's got a gorgeous project for you to make!
Hello Stampendous friends! Asia here and today I am inviting you for tea
. When I first saw these awesome teapot stamps I squealed with joy, because I immediately knew what I would create with them. I have this thing you see, I just love vintage teapots and tea cups. I have a small collection at home which I am really proud of
. So I made a scrapbook page to 'celebrate' my little teatime obsession…
As I also happen to have a set of beautiful teatime themed serviettes, I was able to include some napkin art in my layout. Can life get any better than this? lol
.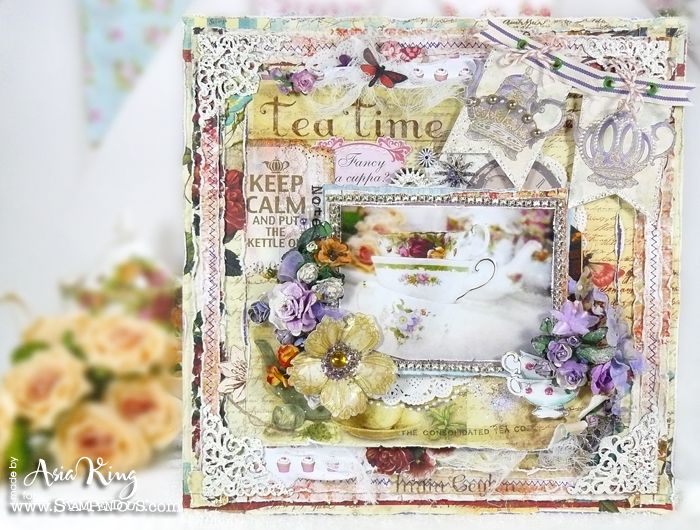 Let's begin.
Step 1:
- prepare your pattern papers, napkins and photos you'd like to scrap
- arrange your papers in layers and distress the edges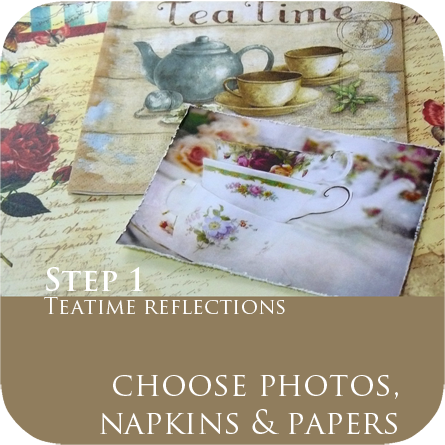 Step 2:
- adhere the papers to the base cardstock with re-positional adhesive. I find it difficult to work on a page when the elements don't stay in place. With re-positional glue dots I can always rearrange the items if necessary
- cut out elements from your napkins and adhere to the page with Beacon's Fast Finish medium
Step 3:
- for the banneer choose paper with a subtle background
- stamp cling Royal Teapot and cling Queen Teapot with brown ink
- colour the images
- cut out the teapot flags for the banner
- finish off with ribbons and pearls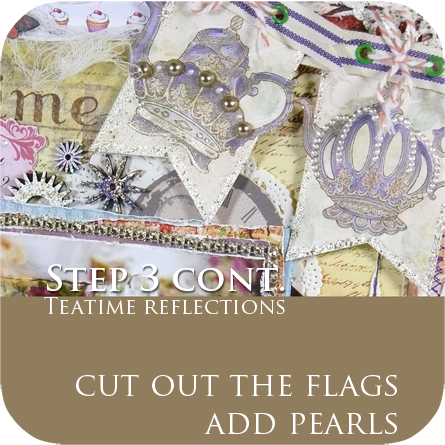 Step 4:
- add a sprinkle of Shabby White Embossing Enamel and Vintage Lilac Embossing Powder over the main background paper
- heat from underneath to melt (if the layers are too thick, this is when re-positional glue stuff comes handy!)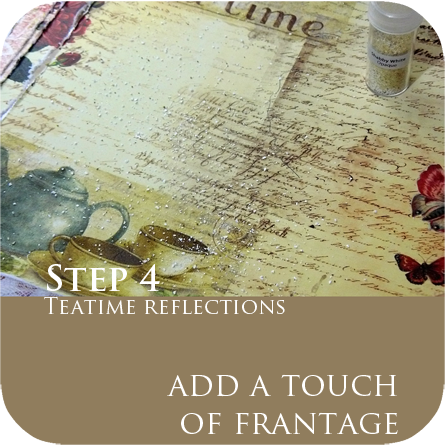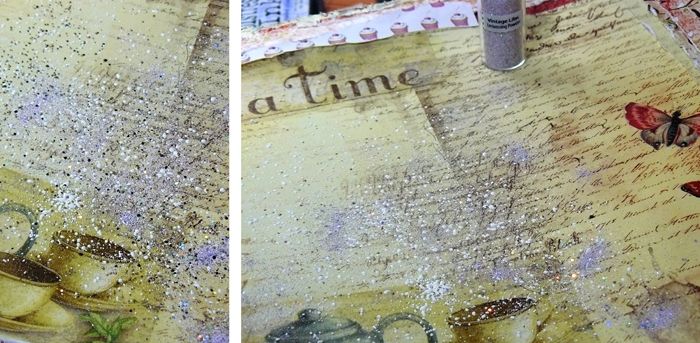 Step 5:
- emboss a selection of chipboard shapes with Shabby White, Vintage Lilac and Aged Wine Embossing Enamel
Step 6:
- heat emboss ornate corner embellishments with Shabby White enamel
- make sure to wait until they cool down – it will take a bit longer that you might expect…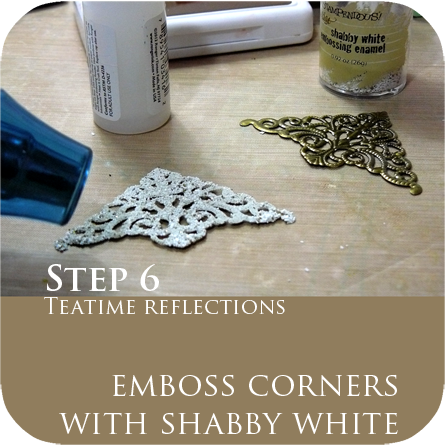 Step 7:
- to create a 'secret' journaling card you will need: old postcard, Tim Holtz Tag & Bookplates die, Rusty Hinge distress ink and blending tool, Coffee Archival ink, cling King Teapot and Luggage Labels
- die cut the tag from an old postcard
- ink the reverse side with Rusty Hinge ink
- spritz the background with coffee (I know, I know…but coffee works better than tea for this!). The ink will react with water and create a mottled effect
- stamp the King Teapot with Rusty Hinge
- stamp a chosen label from the Luggage Labels set with Coffee Archival
- add a sentiment. I found this sentiment long time ago and I've always loved it. Not sure who the author is, sorry. If you don't have a favourite quote, make sure to check out our collection of the Digital Downloads - lots of WordArt inspiration there!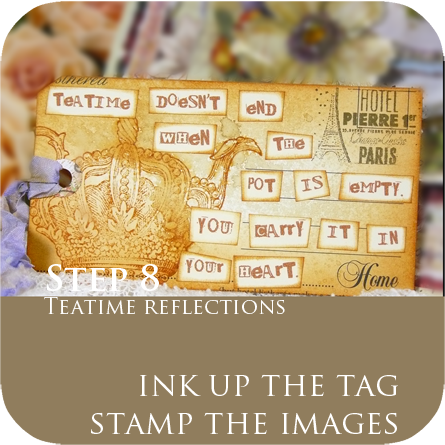 Step 9:
- stamp the cling Kettle On onto a patterned journaling card with Coffee Archival
- add bling to your photo and the rest of the page. I used Beacon's Gem Tac to fix the gems in place
Step 10:
- adhere all the elements. Mount the photo onto 3d foam pads allowing sufficient room underneath for the secret journaling tag
- add final embellishments and flowers. For a shabby chic look alter the blooms by swiping Boss Gloss over the flowers and heat embossing them with Frantage enamels
To finish I also added a Ruffled Bloom. The flower centre was embellished with Champagne and Lavender glass glitter and little pearls.
That's all for now! Thank you for popping in today and I hope you've enjoyed this little Tea Party
. If you'd like to see more of the close up pictures, please visit my blog
.
Big crafty hugs
Asia
Filed under: Asia King, BlogStars, Cling Rubber Stamps, Embossing, Essentials, Everyday, Frantage, Rubber Stamps, Scrapbook, Tutorial | Tagged: blogstars, cling rubber, cling stamps, embossing powder, flower, Frantage, glitter, Royal Tea Time, Rubber Stamps, scrapbooking, stampendous | 11 Comments »